Unified Screening and Crushing
Company Details
Programs
Contact Us
About Us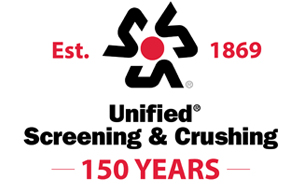 225 N. Pasadena Street, Gilbert, AZ 85233
No Tab Selected
Unified Screening & Crushing is a family-owned manufacturer of screening and sizing media with 14 production facilities across the country. We also maintain the largest inventory of ready-to-ship wear parts. Family-owned and operated drives our commitment to a quality product and philosophy of service. Everyone in the Unified family, from the wire press operators who help us maintain the largest woven wire cloth inventory in North America to the delivery teams who are responsible for loading and delivering several tons and hundreds of thousands of dollars of manganese – each one of us know that customers are relying on us to help them do their jobs – putting more rock on the ground.
 
For the Unified family, it's not just a product, we are proud to be working alongside customers on some of the hardest jobs around.
 
Partnering with customers to provide the best possible solutions and service
Unified's screening, crushing and wear parts products perform really well on the job, because they are inspired by on-the-job situations. We develop products when we are working alongside a customer to solve problems – identifying ways to use Unified products for maximum benefit, at the same time recognizing challenges a customer might be facing.
 
And, Unified customer service representatives have lots of previous industry experience. They've worked for quarries, equipment suppliers, foundries or other aggregate and mining-related companies. Anyone can sell products, but the Unified team is focused on solving customer problems and nothing beats experience in the field. With a combined more than two centuries of time spent in the field, we wouldn't call ourselves old, we like to think of it as "experienced."
 
Proudly manufacturing in the U.S. for 150 years
Unified recently celebrated our 150th anniversary. We are proud of our enduring commitment to manufacture in the United States. Domestic weaving and a regional presence at our 14 facilities across the U.S. allow us to offer the best service and on-site expertise for all Unified products. It also makes it possible to provide 24-hour delivery of products on our stock list and fast delivery on custom orders.
No posts to display