| | |
| --- | --- |
| | Dings Overhead Electromagnets have penetrating, deep magnetic fields that remove metal contaminants before they can cause damage to your conveyor belts, crushers, screens, and other processing equipment. Our electromagnets are engineered for optimum performance, reliability and durability– ensuring reduction in production downtime and in repair costs and maintenance. We build quality magnetic separators tailored to meet your specific needs. |
Dings Standard Self-Cleaning Electromagnet
Efficiently Removes Tramp Metal from your Material Flow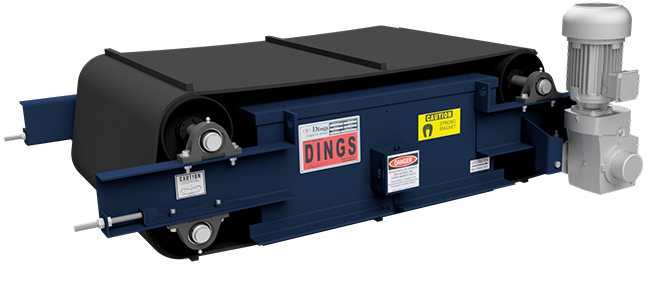 Dings' Self Cleaning Models: The belt continuously travels across the face of the magnet to automatically discharge tramp iron. It comes equipped with a multi-ply rubber belt with 1 inch hot vulcanized cleats.



Dings Severe Duty Self-Cleaning Electromagnet
Protects the Rubber Belt from Being Pierced by Sharp Tramp Metal and Other Jagged Material

The Severe Duty Model is specifically designed for tough applications. It is built to withstand the harshest environments and comes equipped with Dings 'Durabelt' stainless steel pads and cleats, a heavy-duty drive assembly, lagging on the drive pulley and reinforced suspension/mounting hardware.
---

Request For Additional Information: