Every mine has a different set of operating conditions, but with Xylem's extensive product range, smart technology and unmatched application expertise, surface and underground mining operators know they can rely on a single trusted resource to solve even the most challenging water-related issues in ways that reduce the need for water, energy and people power. We offer a full range of ruggedly reliable solutions for mining operations that include pumps & packaged systems, heat transfer, fire protection, mixing equipment, treatment systems, monitoring & controls and analytics and consultative services.
To learn more about the breadth and depth of our capabilities, please take a look at this insightful capabilities brochure.
Vertical Turbine Pumps
Xylem's line shaft and submersible (borehole) vertical turbine pumps come in a wide variety of sizes, configurations and materials to fit your source water and dewatering applications. They have been designed to solve complex applications with reliability, efficiency, and uptime in a wide range of uses, including corrosive/abrasive, high/low pressure and single/multistage.
Automatic Self-Priming Pumps
Offering automatic priming, indefinite dry-run capability and up to 16,500 GPM or 630ft head for water, wastewater or industrial fluids with solids up to 5 inches in diameter, these pumps enable automatic priming from dry to 28 feet (8.5 meters) without a need for operator assistance or foot valve control.
Slurry Pumps
Designed for excellent performance and low energy consumption, long wear life and easy maintenance, our slurry pumps are ideally suited for mines and quarries. These pumps have a slim, compact design and are available in sizes from 4 hp – 330 hp.
Submersible Pumps
Xylem offers a wide range of robust submersible pumps designed to handle the toughest environments. These pumps have a modular design for different types of impellers as well as a broad material selection. And to help adapt to operating conditions in real time, intelligent functionalities make it easy to connect to Xylem's advanced monitoring and control equipment.
Adaptive Mixers
Because treatment processes are variable, your mixer should be too. Flygt Adaptive Mixers can be controlled or automated to deliver only the thrust required — and nothing more — which results in remarkable energy cost savings. With an integrated drive, advanced control capabilities,  auto-correction functions, and a sealed, protected environment for the drive, you can rely on Flygt Adaptive Mixers for highly efficient, streamlined, and optimized mixing in all conditions.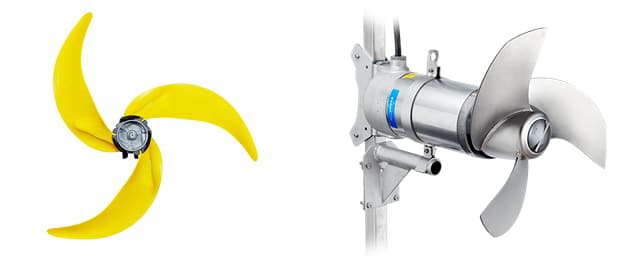 ---

Request For Additional Information: