McLanahan Corporation acquired Universal Engineering Corp. in January 2012. McLanahan has not only added a line of high quality, respected equipment, but they have also gained a talented group of employees. Part of the Universal line of equipment includes Apron and Wobbler Feeders for use in the aggregates industry.
Apron Feeders
McLanahan's Universal Apron Feeders consist of a continuous steel belt that is made up of overlapping flights or pans that are connected to and supported by steel chains. The underside of these flights are reinforced and designed to withstand impact. These Apron Feeders provide a positive material flow and, with variable speed drives, can provide close control of the feed rate to the crusher. Apron Feeders are well suited for applications that require moving a high tonnage of coarse material and impact loads which are too severe for other types of feeders.

Universal Apron Feeders
The McLanahan Universal Tractor Chain Apron Feeders (also known as Dozer Feeders or NICO Feeders) are of extremely rugged construction. They are designed for the demanding conditions seen in mineral and aggregate mining and material processing operations. McLanahan manufactures six model chain sizes for this Apron Feeder – sizes FL4, FD4, FD7, FD9, FD10 and FD11. The chain pull and application determines which chain size is required for the Apron Feeder. There are fifteen standard widths and an infinite range of lengths. Each Apron Feeder is custom designed to meet a wide range of tonnage and application requirements.
For light duty applications we also offer Engineered Chain Apron Feeders (or Texas Feeders).
Wobbler Feeder/Scalper getting
McLanahan's Universal Wobbler Feeder/Scalper provides two functions – feeding oversized material at a controlled rate and scalping out the fines from feed material. This is accomplished by football-shaped elliptical bars that are timed with a continuous triple strand roller chain drive and timed bar sprockets. Each elliptical bar is timed 90 degrees apart, with one bar tip up and the next bar rotated with the tip in a horizontal position. All bars rotate at the same rate of speed. The rotation of the bars tumbles and moves the loaded material along the bars until it is discharged off the Wobbler. Each bar maintains a constant gap allowing the fines to pass through the bar gaps providing the undersized scalped material.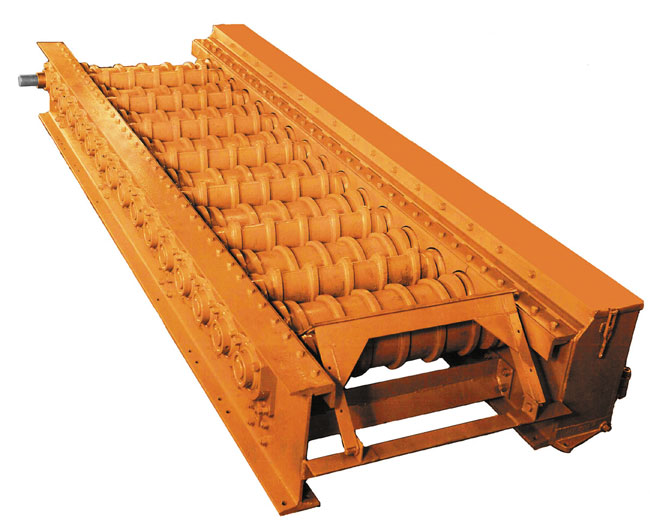 Universal Wobbler Feeder/Scalper
Wobbler Feeders are self-cleaning and can handle wet, sticky material and are very good with clay. Cement plants use Wobblers to separate clay from the rock. Shot material can be dumped directly onto the Wobbler bed or fed with an Apron Feeder. With higher capacities and larger material lump sizes, using the Apron Feeder and Wobbler combination to reduce impact and increase the scalping area is recommended. Wobblers can increase a systems output by scalping out fines and letting the crusher handle only the material that needs to be crushed.
McLanahan manufactures four Wobbler Feeder models, each with different standard widths and number of bar combinations. Each Wobbler is custom designed to meet a wide range of tonnage and application requirements. Designed to scalp material from 1/2" to 7-1/2" lump size and tonnage go up to 2,500 TPH.
---

Request For Additional Information: