Aggregate operations looking for crushing equipment need to look no further than McLanahan Corporation. An extensive line of both primary and secondary crushers are available for a variety of applications.
Jaw Crushers
McLanahan's Universal Jaw Crusher was first patented in the United States as an overhead eccentric, single-toggle jaw crusher in 1906. It has since earned a reputation as a hard rock crusher and is suitable for the toughest, most abrasive material including granites and basalts.The Universal Jaw Crusher is typically capable of a 6 to 1 ratio of reduction when used as a primary crusher. Available in many model sizes, each crusher is designed with a deep crushing chamber for optimum nip, as well as a steep toggle angle for maximum crushing force. The heavy-duty pitman and shaft arrangement offers field-proven reliability and extreme durability.
Also available is the Universal H-Series Jaw Crusher that features adjust-on-the-fly technology. This technology provides hydraulic clearing when needed, allows an operator to make adjustments while continuing operation and automatically resets when tramp iron passes through the crusher.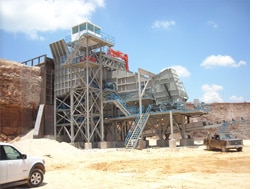 Primary Impact Crushers
McLanahan designs and manufactures four different types of primary impact crushers – the Universal Andreas, New Holland, MaxCap and VersaCap Crushers.
The Universal New Holland and Andreas Impact Crushers are meant for sedimentary rocks such as limestone, shale, and some marble and dolomite. Both the Universal New Holland and Andreas provide uniform gradation that can be altered by changing the speed of the rotor. They can handle both dry and wet materials. Although either is capable of offering a high reduction ratio and highly cubical product, each design offers distinct advantages. Universal New Holland Impact Crushers are known for extra-large feed size and output gradations with more finished product from the first stage of reduction, while the Andreas style offers greater mobility, less maintenance and more versatility.
The Universal MaxCap Impact Crusher combines the best features of the Andreas and New Holland style crushers. It offers a large feed opening and an expansion chamber above the rotor similar to the New Holland, but incorporates Andreas features for ease of maintenance and material control. The MaxCap offers adjust-on-the-fly capability and fingertip control over the output gradation while under a full load. The ability to make upwards to 75% product at the primary combined with the ability to adjust-on-the-fly gives producers the capability to divert material flow between concrete stone and chips in real time.
Yet another great primary impact crusher, the Universal VersaCap is highly adaptive to portable and mobile platforms. The low-profile limits feed size to 36", but offers functionality, ease of maintenance, versatility and overall durability that are hard to match. This design includes a monoblock primary curtain fitted with reversible wear plates, interchangeable wear liners and a third curtain that can be added in the field. Large inspection and access doors, along with hydraulic-shim adjustment, promote proactive maintenance scheduling and reduce downtime. The VersaCap is also available with the adjust-on-the-fly technology providing fingertip control on individual curtain settings or when adjusting all curtains simultaneously for hammer wear.
Secondary Impact Crushers
The Universal NGS Secondary Impact Crusher was introduced several years ago as an enhancement to its predecessor, the Impact II. Although, the original horizontal shaft impactor is still available, this updated model offers the latest features, housing designs and more.The Universal NGS Secondary Impact Crusher incorporates the individual crushing chambers of the Impact II, allowing for the optimum output gradation. The most notable features that make the NGS unique are the low profile housing, hydraulic-shim adjustment on every curtain, vertical lift hammers with a quick L-block retention system, huge inspection and access doors, and a custom feed chute to conform to existing installations. This impactor is focused on reducing the cost of ownership and is not only competitively priced, but also provides low maintenance cost, making each task easier and quicker. The Universal NGS Secondary Impact Crusher is also available with adjust-on-the-fly technology. It provides producers with dependable, low-cost fingertip control allowing gradation changes in real time without impeding the flow of material.
Other Crushing Options
Jaw and Impact Crushers are just a small portion of McLanahan's crushing line. An extensive line Universal Hammermill Crushers provides superior reduction ratios for a variety of materials. McLanahan also produces a line of Roll Crushers that can be used in hard rock crushing and a variety of softer mineral deposits.
---

Request For Additional Information: