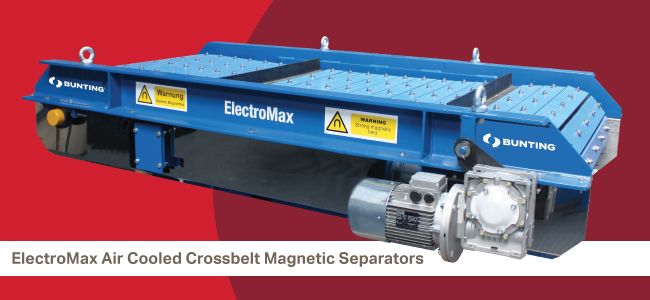 The Bunting ElectroMax Cross Belt Magnetic Separator is 185% stronger and 25% lighter than equivalent permanent magnets. This durable, low profile conveyor delivers reliable results with its air cooled electromagnetic conveyor pulleys. This ElectroMax removes small iron contaminants and aids the removal of heavier tramp ferrous metals.
Stronger and lighter than equivalent permanent overband magnets.
Air cooled system: No more oil tanks.
Lightweight: ideal for mobile installations.
Bunting designs and manufactures magnetic separation equipment, metal detection units, and conveyor systems for the aggregate, mining, and minerals industries.
More Information: https://buntingmagnetics.com