Pulverize, grind, crush or mix  wet, sticky or dry materials

The Stedman H-Series multi cage mill is best at pulverizing, grinding, crushing and mixing abrasive and non-abrasive materials – wet, sticky or dry. The H-Series provides a finer, more uniform grind.  H-Series cage mills can handle up to 240 tons per hour and are reversible for extended wear life. The H-Series cage mill is engineered and constructed to operate at or  near-peak efficiency longer, providing a greater return on capital investment over its life.  Capable of producing a variety of product gradations, easily altered by changing the impact mill speed.  Quick-opening housing for inspection and maintenance allows for minimum downtime for wear part replacement and inspection.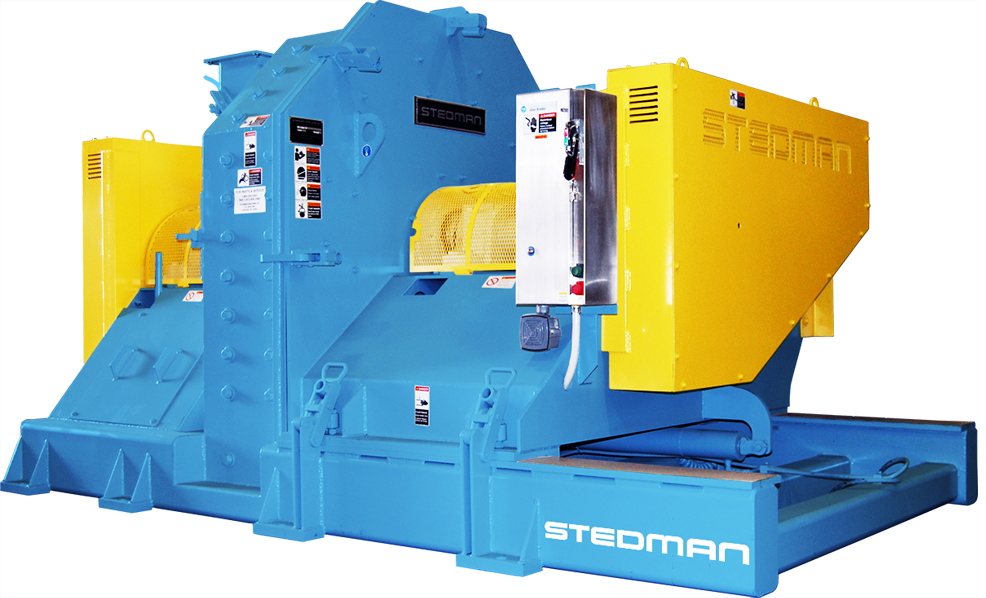 Each H-Series Impact Mill housing can accommodate two-, four-, or six-row cage assemblies. This versatility is further enhanced by the capability to vary the number of  pins in each row, to vary the rotational speed of each cage in relation to the other(s), and to change the relative direction of rotation of the cages.  For wet material applications, air cannons are mounted at the intake and discharge to help prevent buildup of wet material.  A hydraulically-operated, quick-opening retractor provides rapid access to crushing components for inspection or changeout. The quick opening feature allows  prescheduling of downtime for parts change out based on regular inspections. Inspection requires about five minutes, complete change-out of wear components as little  as one hour,  or less.  Perfect for:  Aglime,  Coal,  Fertilizer,  Salts,  Potash and Aluminum Dross.  Test your material in  Stedman's full size equipment.  Stedman operates a complete testing and toll processing facility staffed by experienced technicians with full-scale equipment, allowing customers to witness accurate crushing test results, predicted output  capacities and processing data.

Support services include system design and 24-hour parts and service.
---

Request For Additional Information: