SOURCE: CDE | August 30, 2023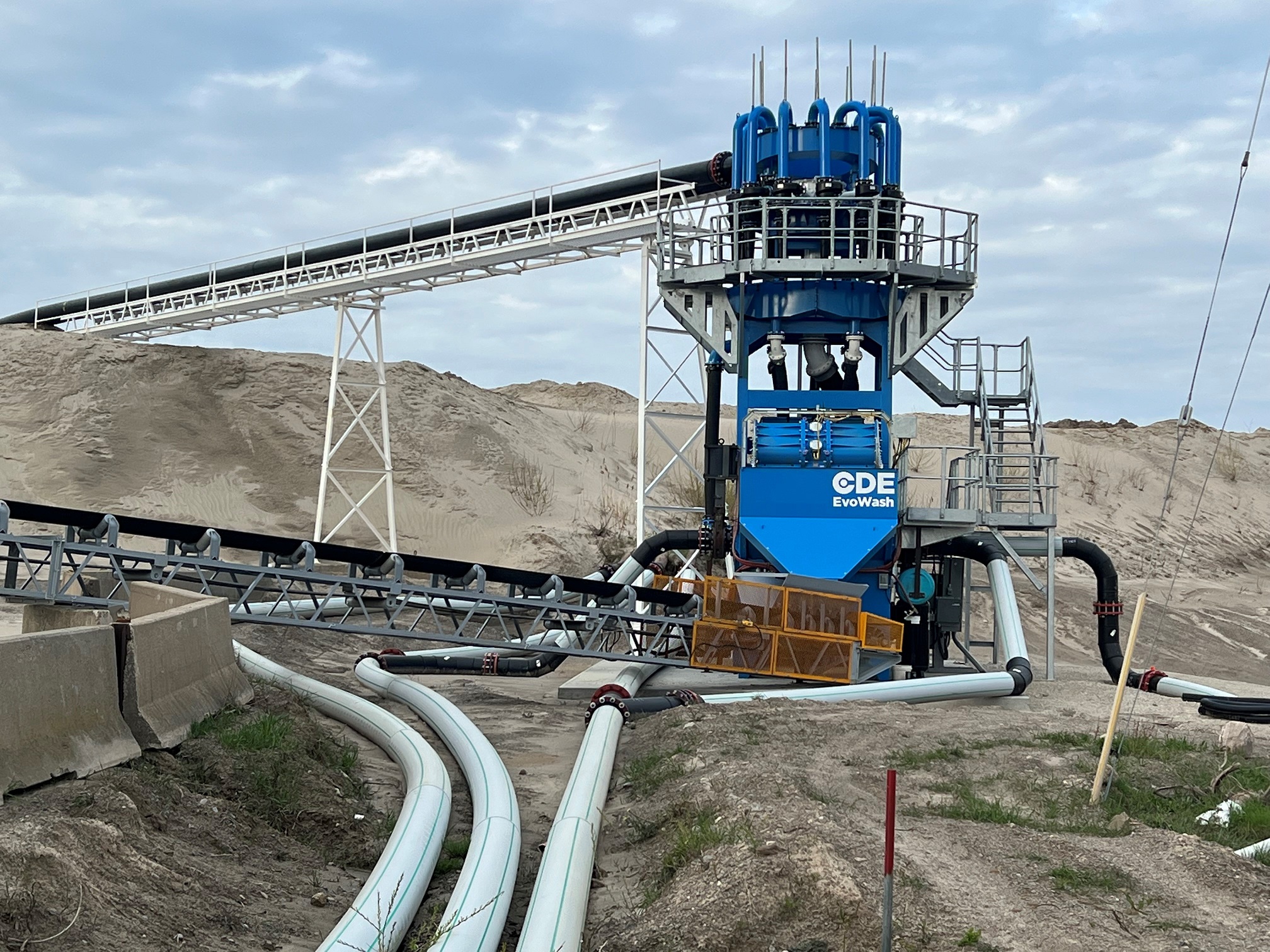 Ontario-based sand and aggregate producer James Dick Construction has finalized a major new investment in an ultra fines recovery system, designed and engineered by wet processing industry experts CDE, as the company solidifies its position as one of the leading suppliers of construction materials in the local market.
The James Dick group of companies has grown from its humble beginnings in 1964 to its current position as a leader in the supply of sand, gravel and limestone products in the Greater Toronto Area (GTA).
In 1983, the group acquired Caledon Sand & Gravel Inc. and with it the 825-acre Caledon Pit, then one of the largest pits in the country. It was in 1997 that James Dick Construction secured a licence to expand its Caledon Pit which would ensure reserves of quality construction materials for the local market for decades to come.
Its focus has long been driven by a desire to ensure a consistent supply of materials with the least social and environmental impact by locating itself close to where demand is to minimize haulage emissions which delivers both environmental and commercial advantages.
Continuing this trend, the recent commissioning of a state-of-the-art 50tph (tons per hour) ultra fines recovery system with cyclone technology in Caledon, Ontario is maximizing material recovery from its quarrying business, extending the operational life of its active extraction sites and available reserves.
At Caledon, the business currently maintains a range of wet and dry screening equipment, including traditional sand screw technology, an essential innovation in the quarrying industry over the years but one that lacks the accuracy of modern washing equipment
The benefits of cyclone technology vastly outweigh the capabilities of sand screws, achieving greater materials output and minimizing the loss of high-quality fines. CDE cyclone technology delivers unrivaled control of silt cut points and product specification to produce high value, in-spec construction materials straight from the belt.
Sustained demand for sand and aggregate products coupled with increasingly stringent regulatory requirements necessitates that producers maximize their reserves to maintain profitability and meet the demands of the market.
The new CDE plant is processing material previously lost to the overflow of two existing sand screws to recover premium fine washed masonry sand at a rate of 45tph.
Commenting on the project, CDE business development manager for Canada, Adrian Convery, says: "Fully operational, our highly efficient ultra fines recovery system will make a significant contribution to Caledon Sand & Gravel. By recovering larger quantities of premium sand more efficiently we can support James Dick Construction to maximize its return on investment and maintain its competitive advantage in the local market by boosting the availability of its material reserves."
James Dick, CEO of James Dick Construction, says: "We want to ensure our operations remain as efficient as possible so that we can continue to service the local construction industry for many years to come. For us, embedded in the Caledon community, the key to that is ensuring we extract as much value and material from our reserves as possible as opposed to pursuing new extraction s
"It's the most responsible approach for the communities in which we operate and also from an environmental perspective, reasons which dovetail with the economic benefits of the approach. The solution delivered by the team at CDE will play a major role in securing a consistent and reliable supply of materials for the construction industry in the Greater Toronto Area."
Established by Mr Dick almost 60 years ago, James Dick Construction Limited started out with a D-6 bulldozer and single axle dump truck which were put to work at its Adjala and 20th Sideroad pits in the Albion township.
Today, its primary operations focus on the production, sale, and transport of high-quality construction materials produced from its portfolio of 18 close-to-market pits and quarries in Southern Ontario.
About CDE
CDE is a leading provider of wet processing equipment for recycling operations, quarries and mines on the global market.
The CDE equipment range has applications across a wide range of materials and is delivering significant efficiencies in the construction, demolition and excavation (CD&E) waste recycling, mining, industrial sands and environmental sectors.
Working across five regions globally, CDE has been co-creating with customers for 30 years to deliver collaborative, imaginative and unique processing systems.
The CDE global headquarters is located in Northern Ireland and is the regional HQ for UK & Ireland. CDE's Centre of Excellence south of Dallas-Fort Worth, Texas ensures the company effectively serves the North American market. It also has regional offices in Europe, MEA, and Australasia.
CDE is an established and award-winning company. As such was recognized in the Deloitte Best Managed Companies Awards 2022. This was the 14th year in succession that CDE won a Best Managed Companies award.
To comment on this story or for additional details click on related button above.