Pennsylvania Crusher – Posimetric Feeder
Versatile handling of all materials! Sticky, lumpy, wet or dry – our Posimetric Feeder has you covered.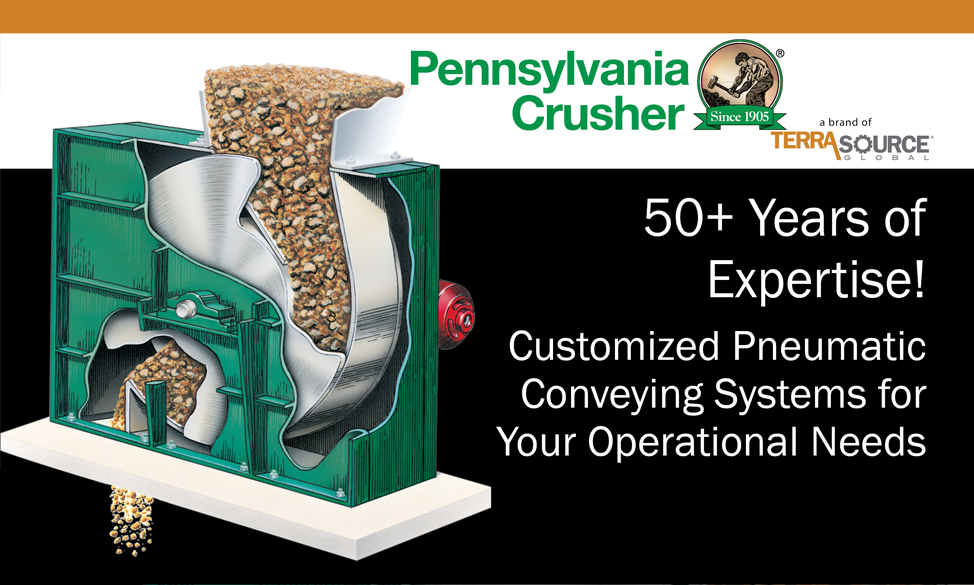 Advantages
Reliably accurate and exceptionally constant feed rates
Only a single moving part
No fugitive dust produced
Handles bulk solid materials with a broad range of bulk densities – as well as mixed loads – whether wet, dry, lumpy, sticky, abrasive, or granular
Not subject to feed rate error from varying moisture levels in feed material
Plugging and downtime are virtually a thing of the past
Maintenance is almost non-existent – this feeder has no belts and requires almost no attention
Provides a level of trouble-free operation unknown with ordinary feeders
Capacities from 3 to 1800 TPH
Rotation speeds as low as 1/2 to 15 RPM using extremely low horsepower – your material provides most of the power!
Seals against downstream suction or pressure
Unvarying accuracy – up to 99.5%.
Replaces rotary, table, weigh feeders, and triple-gates with an incredibly uniform feed rate and always delivers a precise amount of material
Improves plant safety because it's dust free
Pennsylvania Crusher Reversible Impactors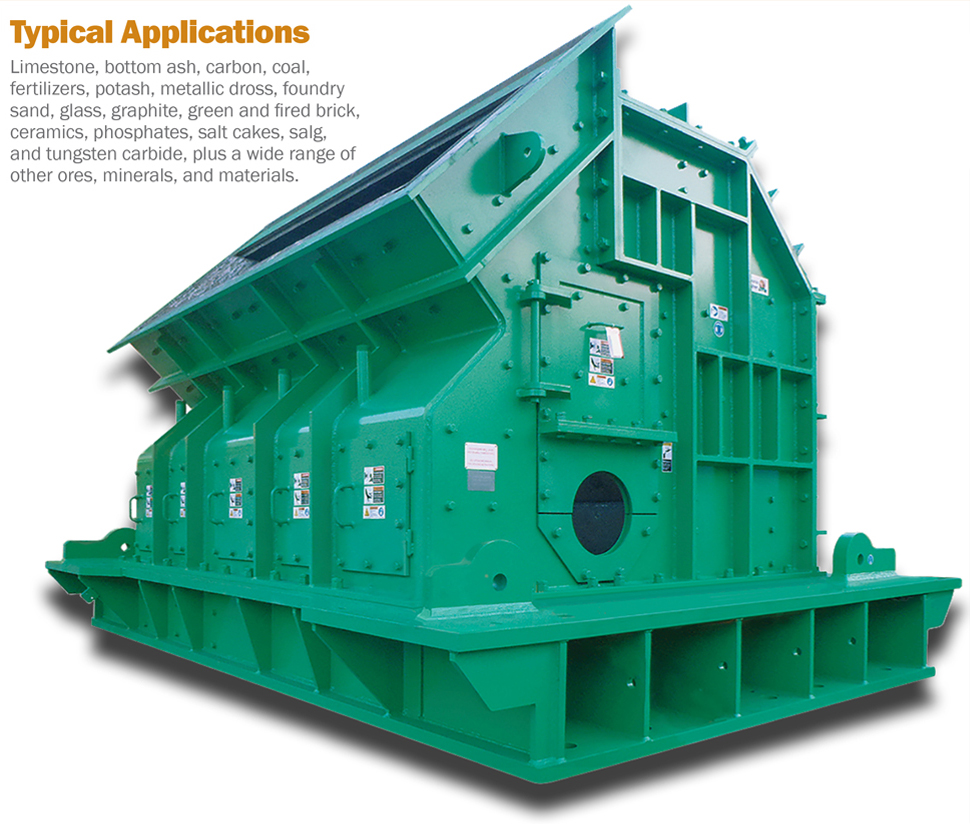 When Versatility, Reliability, and Long Service Life Matter!
The Pennsylvania Crusher reversible impactor uses steel hammers to fracture material along its natural fault lines, reducing it into smaller pieces. The pieces then strike stationary breaker blocks, further reducing their size. This process continues until the sized material exits through the open bottom of the crusher. This method produces a cubical product and can achieve high reduction ratios of up to 35 to 1, depending on the material's friability. The crusher's open bottom prevents overcrushing and excessive production of fines, while also allowing for smooth material flow. Compared to hammermill grate-type crushers, this design requires half or less power and reduces the chances of plugging when processing high moisture materials.
Pennsylvania Crusher brand reversible impactors are available in a variety of models:
Model CAL – the culmination of more than 75 years of design improvements make these reversible impactors the preferred choice in nearly every segment of the mineral processing industry due to their excellent reliability, impressive ruggedness, and superb peformance, coupled with low initial cost and low maintenance costs.
Model CA – with their extra-heavy-duty construction – the most robust in the industry – these reversible impactors include all of the features of the model CAL while specifically designed to handle larger input sizes and higher capacities with ease, ensuring reliable duty and long service life even under the harshest conditions.
Models CXF and CXC – with their smaller input sizes, these compact reversible impactors are well suited for production at lower capacities. The model CXF is equipped with fixed breaker blocks throughout while the model CXC uses fixed upper breaker blocks and adjustable lower breaker blocks – the latter allowing you to vary the gradation of the output to suit your needs as well as more easily maintain gradation over the life of the crushing components.

Gundlach Crushers Cage-Paktor
The Cage Mill designed for the lowest product oversize, highest product yield and best crushing efficiency.
The CAGE-PAKTOR is the first cage mill to make cage replacement fast and easy. Only Gundlach's exclusive cage mill design saves you hours of labor by eliminating drive removal, realignment, and setup.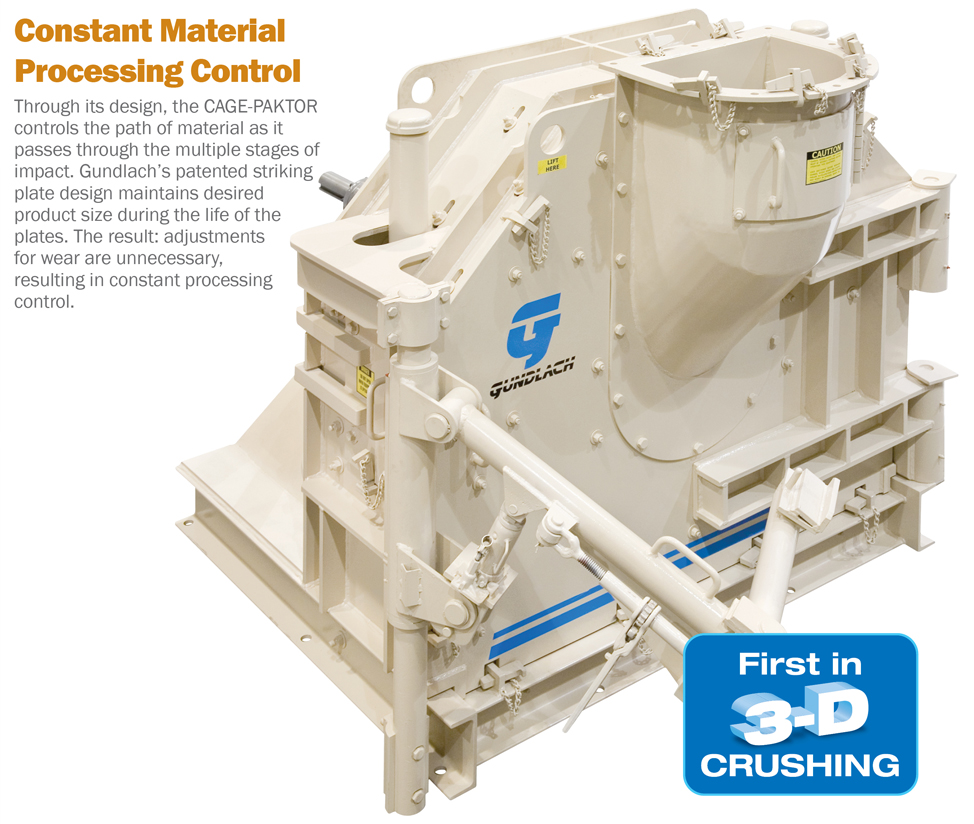 Advantages
Its Versatility – Sizes 100 mm feeds to 2 mm product
Uniform Crushing – Materials with sufficient mass are crushed while already-to-size materials pass through
Economy – Economical design requires no screens and only crushes oversized material. More selective crushing reduces power requirements and operating costs. Putting both drives on one side minimizes cost and maximizes productivity
Compact – Unique design requires less floor space
No Adjustments Needed – The striking plate maintains desired product size during the life of the plate
Easy Maintenance – Swing-away door gives immediate cage access without the need to remove components
Exclusive Shaft-Within-a-Shaft Design Makes for Small Footprint and Easy Maintenance
Pennsylvania Crusher Granulators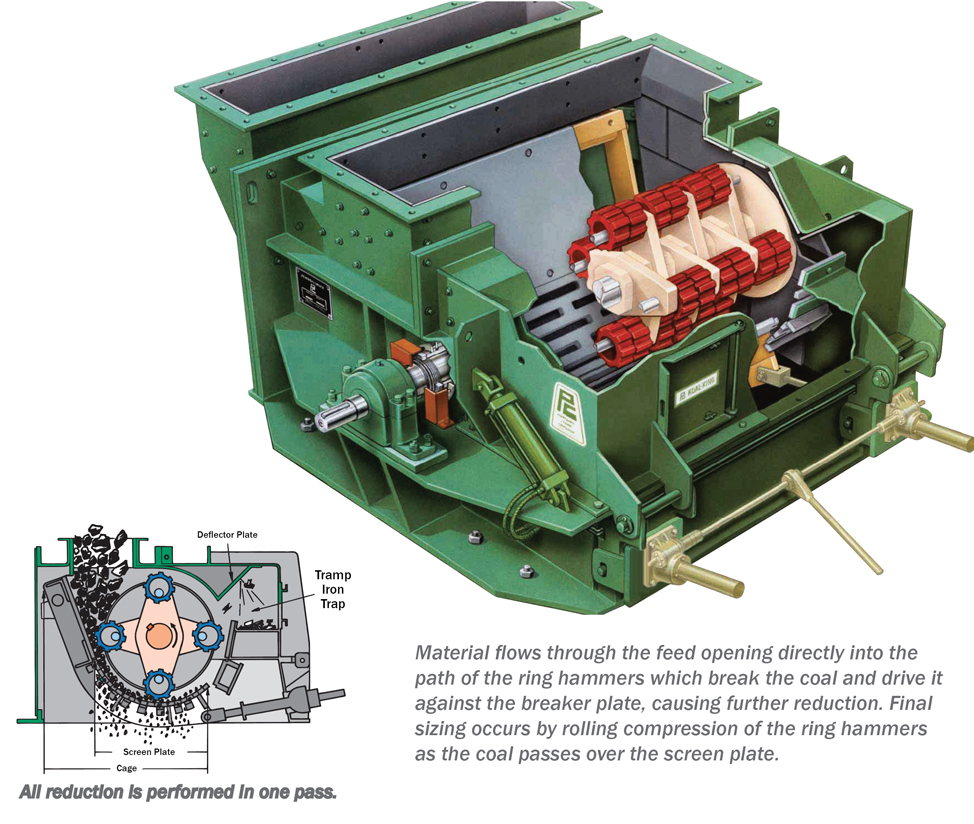 Crushing Efficiency Redefined: Experience the Power of the TKK Koal-King® Granulator.
Advantages of Superior Technology
Unique Access Arrangement – In most sizes, the entire rear quadrant is hinged and swings completely open, exposing the entire rotor assembly and much of the crushing chamber. This produces unhindered access for complete removal of the rotor assembly and hammer replacement without disturbing other elements of the feed system.
Bearing Housings – The split design of the bearing housings allows the bearings to be easily flushed and lubricated without having to remove them from the shaft.
Screen Cage – Special slots of the granulator's screen cage create a very high ratio of open area, enabling it to handle even the most difficult, sticky feed with no problem.
Output Size Adjustment – To maintain the correct output size, the screen cage can be adjusted to compensate for normal wear, a task performed by external screw mechanisms.
Hammers – Our toothed ring, forged steel hammers have a special profile that crushes more efficiently and provides extended service life compared to third-party offerings. The hammers are strategically arranged for full coverage of the cage, producing far more consistent crushing and more uniform wear of the screen cage.
Duralife Hammers – TerraSource's Duralife premium hammers are engineered with special advanced alloys that optimize wear resistance and toughness. This line ensures better wear and higher shock resistance, minimizing the potential for cracking
Crusher Protection – Uncrushable debris is directed into an integral tramp iron trap, easily reached through an access panel for routine maintenance.
No Flywheel – The weight of the rotor assembly alone creates sufficient inertia, eliminating the need for an external flywheel and related hazards to plant personnel.
Gundlach's Double Roll Crusher
Dozens of roll configurations available to meet your specific application needs.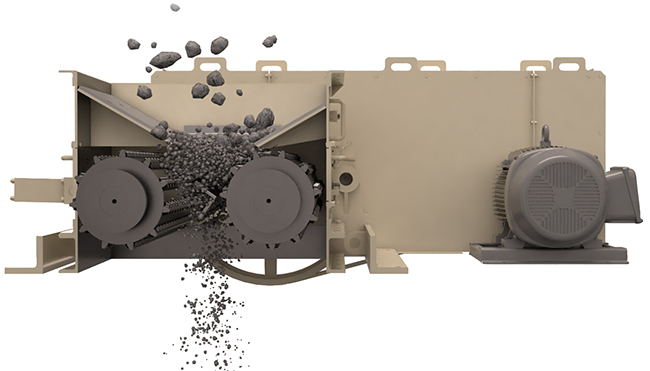 Optional Nitroil® Tramp Metal Protection System
Advantages
Only crusher able to product cubical product with uniform sizing and less fines
Slow roll speed, low horsepower – reduces power consumption and operational costs
Accepts large feed sizes up to 1200 mm
Minimal fines generation
Excellent top size control without slabbing
Throughput can range from 10 TPH up to over 6000 TPH
Product size adjustment in a few minutes while crusher is running
Optional Nitroil® Tramp Metal Protection System
Ease of maintenance through features such as coupling mounted rolls that can be replaced in hours
Flexible machine configurations for maximum control of product size
Check out the full range of Gundlach Crusher and Roll Options
Gundlach's New Generation style Cage-Paktor® Cages
Dozens of roll configurations available to meet your specific application needs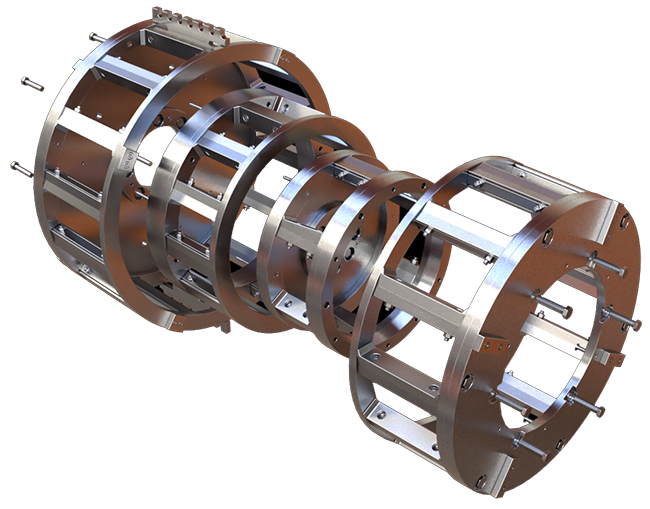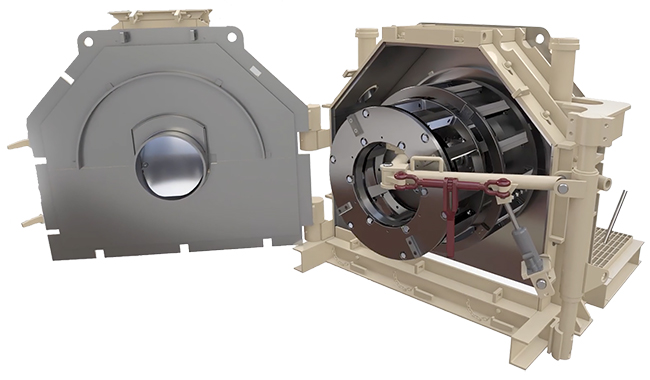 Advantages
Superior durability
High top-size yield with minimize fines
Enhanced wear resistance
Easier, faster and safer maintenance
No excessive oversizes
Longer intervals between maintenance due to greater overall wear resistance
Lower maintenance costs due to quicker maintenance time
Fully interchangeable with existing machines
Improved lead time with plug & play parts
Low power consumption per ton
Check out the cool animation showing the new re-engineered cages that provide substantially more wear resistance than competitor models
Jeffrey Rader's EnduraHog Flextooth® Model
Designed for hard materials in the aggregates and mining industries.
Its specialized hammers offer maximum power at more efficient speeds, and provide additional protection from uncrushables.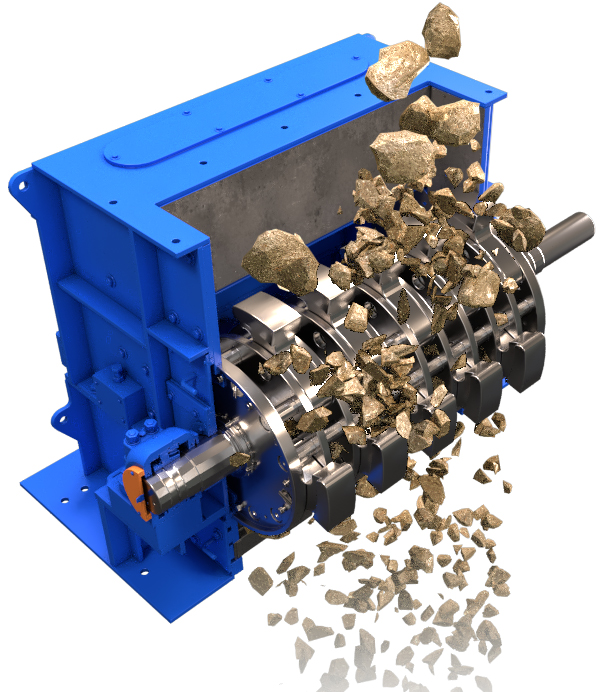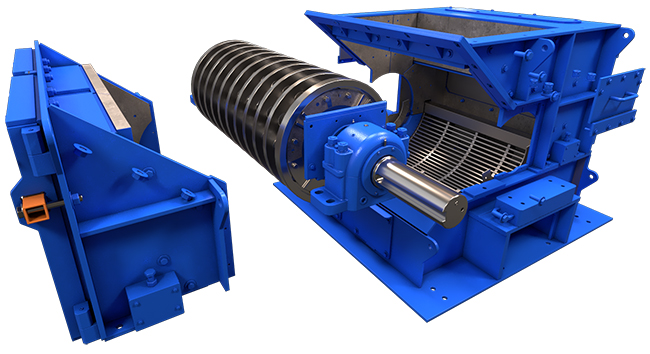 Easy Access to Internal Wear Components for Easy Maintenance
Advantages
Easy access to internal wear components with new housing upgrades and ultra-large doors that offer the safest, fastest, and easiest options for getting to hammers, rotors, and liners.
Maintenance operators can quickly perform routine maintenance with minimal downtime and lower risk of injury.
Enhanced wear resistance
Slant-Flow® screen grates are unique to our EnduraHogs. Their patented design provides more shredding action and allows the material to evacuate faster and allow customers to gain additional efficiency and cost-effectiveness due to less clogging and diminished fines, with less chance for overall operational failure.
EnduraHogs™ are the new industry standard, these premium array of material-sizing equipment are perfect for multiple industries, including mining, forest products, waste and recycling, and much more.
Check out this cool animation of our new EnduraHog line of hammermills!
Jeffrey Rader's NFE Electromagnetic Vibrating Feeder
Enhanced design innovations provide easier maintenance and energy efficient handling of larger loads.
Jeffrey Rader® brand NFE Electromechanical Vibrating Feeders are precision tuned near materials own natural frequencies, meaning burden and damping actually boost feeder performance.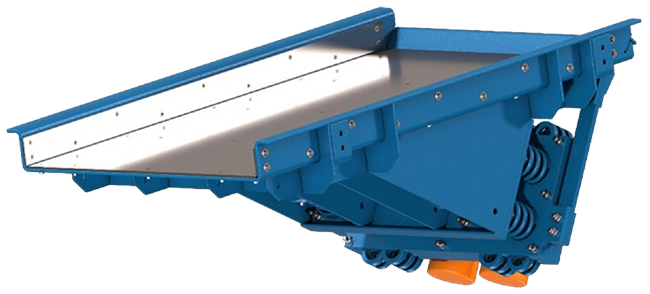 Advantages
Rugged Deck Design
Exciter Assembly
Rugged, vibration resistant spring retention
Vibrating Motors
Frequency Controls
Minimum Drive, Maximum Load
Minimum Stroke Variation
Feeder Capacities & Dimensions
Reduced energy costs
Easier maintenance
Better safety
CE compliant
Check out the new Jeffrey Rader NFE Feeder. Near-zero maintenance, energy efficient, smaller footprint.
---

Request For Additional Information: