Eagle Iron Works has offered customers reliable, easy-to-operate equipment to handle washing and classifying applications since 1872. After celebrating 150 years of business in 2022, EIW is excited to expand their product line and show the industry that they will continue meeting the demands of the industry for the next 150 years.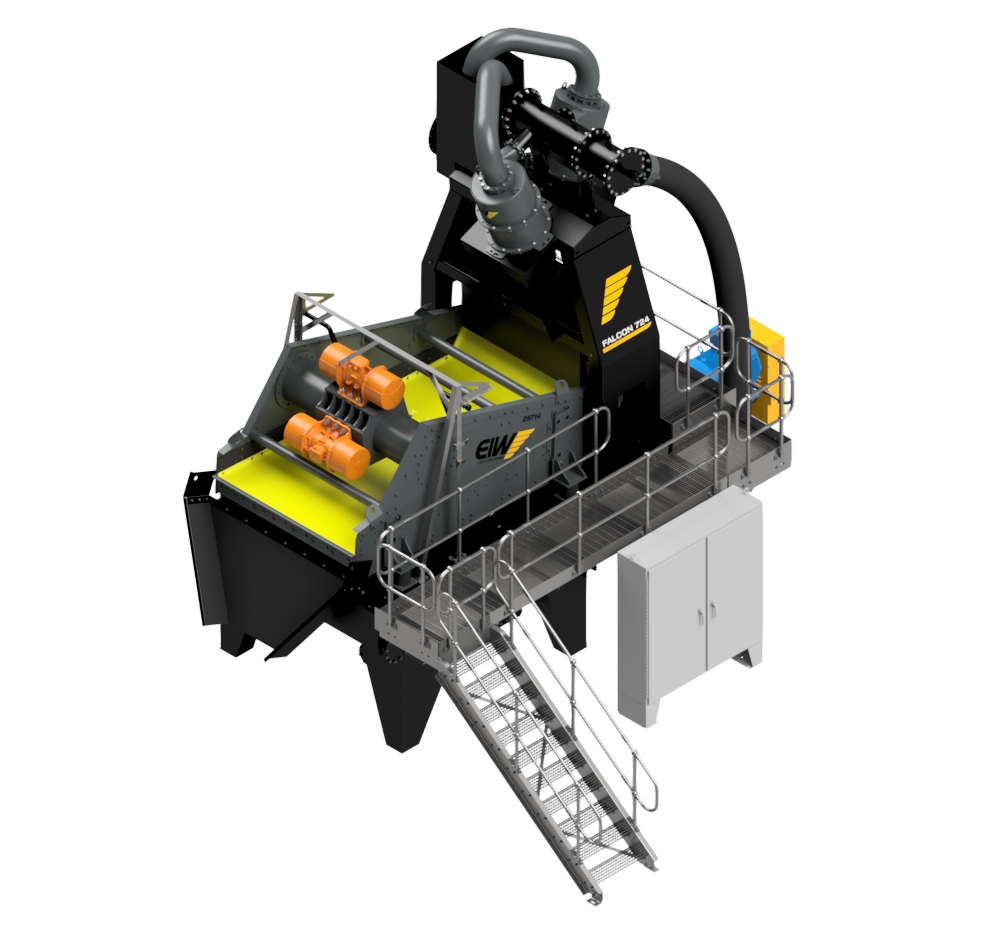 During CONEXPO 2023, EIW will not only highlight their classic equipment for which it is known but they will display a brand-new line of equipment that will complete their already extensive list of washing equipment. CONEXPO is the first place for dealers and customers to see this system in-person. We are pleased to introduce the Falcon to Eagle Iron Works product offering.
The Falcon Sand Washing Plant from Eagle Iron Works brings high product yield in a compact washing system that produces a drip-free, stackable, easy-to-handle product for your site.
This Falcon is a Sump-fed system that is comprised of a Sump, Hydrocyclone(s), a Dewatering Screen and Pump. A slurry feed is collected in the Sump of the system, from where it is pumped to the Hydrocyclones for classification. Product-sized solids are discharged out the bottom of the Hydrocyclone and onto a Dewatering Screen, while fines and excess water overflow out the top of the Hydrocyclones to waste or further processing. The Dewatering Screen then removes any excess moisture from the product and discharges a drip-free, ready-to-sell sand. The water and fines that pass through the Dewatering Screen are recirculated through the system by way of the Sump to minimize the loss of sand-size products and reduce the waste sent to ponds.
The heavy-duty design and easy maintenance of the Falcon make it the ideal wash plant for operations looking for a high sand-recovery solution. The modular design makes setup quick and simple so your operation is up and running sooner, while the compact design allows for maximum use of land resources.
"EIW has been successful for the last 150 years because we design and build the heavy-duty equipment that the industry needs. We listened to the customers and industries around us and have developed a new system that we're excited to launch," said Tim Miller, Business Line Director – EIW.
---

Request For Additional Information: