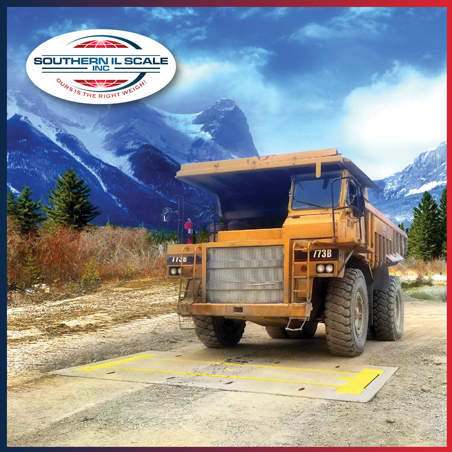 mineWEIGHr – Weighing mine trucks is as easy as driving across the scale

Southern IL Scale manufactures and installs the mineWEIGHr, a fast, accurate and economical way to monitor commodities that are coming into or leaving your facilities.

Drive over the scale while moving a constant 2-3 mph. The scale will automatically weigh each mineWEIGHr and print a receipt with individual axle weights and the total. If you store the trucks ID and tare weight, or use 2 pass weighing, the controller will calculate the Gross, Tare and Net values.

Why mineWEIGHr?
Pre-cast Platform Structure – Install on a minimum of 2′ of compacted flat and level CA6 3 crushed limestone.
– NOTE: 2′ up to 4' is required for certain soils to maintain a solid base.
– Concrete approaches increase accuracy and reduce maintenance and cleaning.
– Entire scale is semi-portable and can easily be moved from site to site
Easy installation – Durable 5000 psi pre-cast platform structure
– Certified Patterson lifting points on both pre-cast platform and weighbridge
– Installation time is less than 8 hours (2 men) on average install precast platform from beginning to end
Service – No specialty tools or knowledge required to install or maintain scale
– Patented weighbridge removal process allows for easy cleaning and service
– Sloped floor and 4" drain keep scale clean and dry
Accuracy and Performance – Better than 0.5% accuracy on average with proper use and installation
– Efficiently track profits and inventory movement without stopping on the scale
– Fastest return on investment system to obtain individual axle weights and gross vehicle weight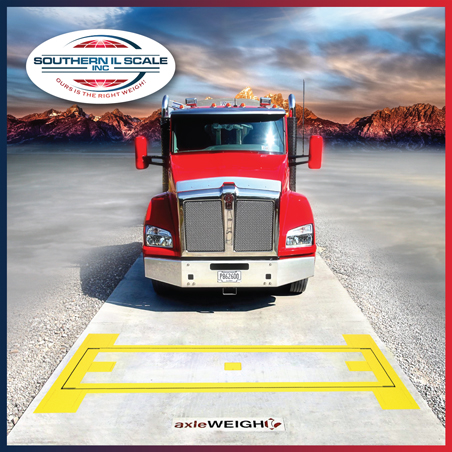 axleWEIGHr – In Motion Axle Weighing
Southern IL Scale manufactures and installs the axleWEIGHr, an in-motion axle scale that allows for trucks to be weighed as they roll across the scale. It comes with Information Management Software that allows for recording transactions with time and date, by truck, field, farm, county and crop variety. This provides better visibility of your farm inventory, ensures your trucks and axles are not overloaded when they head out to the elevator, and maintain necessary records for the FSA office or your crop insurance agent, all at an affordable cost.
Why axleWEIGHr?
Easy
Just install, turn on power, zero the scale and start weighing. The Weigh-In-Motion Axle Scale is preconfigured for easy installation. The load cells are factory calibrated and the indicator is pre‑ programmed. All wiring is DIY terminating with screw on watertight M12 connectors.
Accurate
On average, better than ± 0.5% repeatability can be expected. Company testing as well as numerous field installs have shown that better accuracy can be achieved with extended flat and level concrete approaches. Individual results may vary. Well-maintained vehicles weigh the best. Never worry about being overloaded again.
Economical
About ⅓ of the cost of a full-length truck scale. With the Weigh-In-Motion Axle Scale, you will always know the total vehicle weight and the individual axle weights. Installation generally takes half a day and no costly foundation work. No limit on the number of axles, allows for any truck configuration or length. Can even be installed in a gravel driveway removing the need for costly approaches and exits.
Innovative & Trusted
This patented design produces fast and accurate weights without stopping on the scale or interrupting the flow of traffic. Farm and jobsite management software creates a CSV file for every transaction with "farm and field" or "material and Job #". The axleWEIGHr in-motion axle scale patent is approved as US Patent 9470574.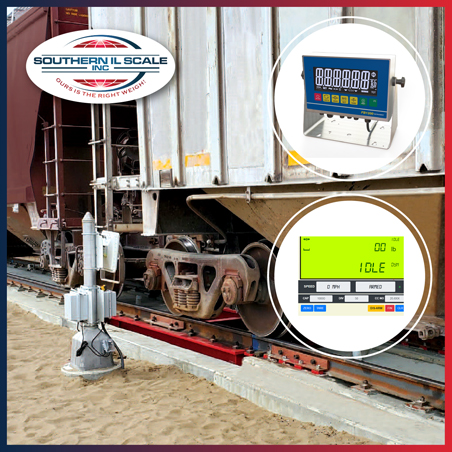 Weigh In Motion Rail Scale – retrofit static rail scales
Southern Illinois Scale has extensive experience in dynamic and static rail scales and have been a trusted Fairbanks partner for over two decades.  Combining the proven reliability of the 2000 Series aboveground railroad track scale with new in-motion weighing capability, Fairbanks Scales' WIM RR Track scale can process all your railroad car weighing needs and incorporate them into your system with ease.
Using our standard 2000 Series modular scale design and load cells, we're able to maximize all the benefits including modular construction, proven reliability, and hermetically sealed load cells while adding the superior processing power of Weigh-In-Motion capabilities. Fairbanks PC user interface allows the customer to customize the user experience and reporting capabilities to maximize operational efficiency exactly as they need it.
FB400 INSTRUMENT WITH PC USER INTERFACE
The Fairbanks FB400 Instrument that meets all NTEP and AAR requirements.  The FB400 is easy to operate and continuously reports through a user-friendly PC web interface that features customizable user preferences. Scale data integration into most customer ERP systems is possible. Individual ERP compatibility is explored and determined during the project's discovery and quoting process.
HOW DOES THE 2000 SERIES WIM SCALE WORK?
As a train moves over the modular, above-ground 2000 Series WIM Scale at 3 to 4 mph, wheel sensors and RFID tag readers activate the scale, capture the railroad car weight, record the date and time, and scan the railroad car ID tag. The entire process is accomplished in seconds, then repeats for the next car, then the next, and so on, until all the train's cars have been processed.
CAN I RETROFIT AN EXISTING SCALE WITH WIM TECHNOLOGY?
The 2000 series combined with the FB400 provides the unique ability to retrofit existing static or weigh-in-motion rail scales while maintaining AAR/NTEP Legal for Trade status.    Enquire with Southern IL Scale to see if a scale conversion is right for your operation.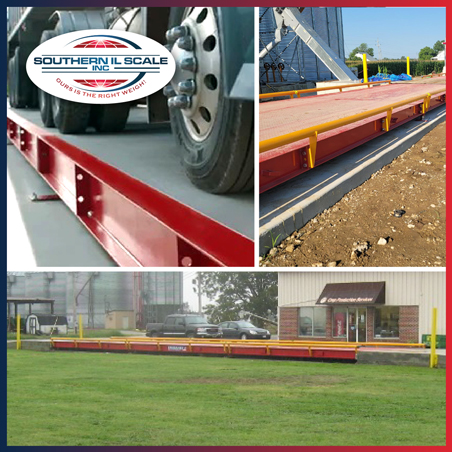 Trusted Dealer for Fairbanks Truck Scales – Custom Solutions Southern Illinois Scale specializes in specifying and installing the Fairbanks range of truck scales.  We have been a trusted partner for over two decades and are consistently the largest Fairbanks dealer.
Following are some of the most popular above and below ground installations we do.
Above Ground:
– Talon Steel Deck Talon's structural steel construction is the foundation of its enduring strength. Its longevity is reinforced by Fairbanks' innovative open-bottom design, which eliminates internal corrosion failures. Fairbanks' Talon steel deck scales offer a choice in capacity and deck plate thickness. For normal duty-cycles, the HV with ¼" deck plate is a solid performing scale. In "extreme" duty-cycles, the HVX offers ⅜" deck plate for a more robust solution. Whatever your needs, the Fairbanks Talon steel deck was designed to meet them.
– Talon Field Pour For the most robust, long-term scale performance, a concrete deck is the only choice. Concrete provides extraordinary life even in the most aggressive applications.   The Talon HV offers a 10" thick concrete deck while the HVX offers a 12" thick concrete deck. Depending on your application and duty-cycle, Fairbanks has a Talon field poured concrete scale design that will maximize the lifespan of your scale.
– Trident Factory Pour If you demand the robustness of a concrete deck truck scale, but don't have the luxury of waiting for a cure time, you need the Trident. Fairbanks' Trident is a concrete deck truck scale delivered ready for service. Trident incorporates advanced concrete engineering technology to produce a proven 8,000 psi deck. Added strength and density comes from TensileCore steel fiber reinforcement and silica fume. With Trident, you can be guaranteed of the quality of the concrete. Starting with an engineered mix, cure and finish, the Trident is built under strict factory quality controls.
Below Ground:
– Tundra Pit-Type Scale Fairbanks' new Tundra XL and XLT Pit-type Truck Scales feature the Fairbanks dual main girder weighbridge design, which has been the industry standard for strength and durability for nearly 100 years. The Tundra is designed to significantly reduce the amount of real estate typically required for scale operations. Where installation space is tight, or real estate rates are premium, the Tundra is an exceptional cost-saving and space-saving choice.
– Type "S" Pit-Type Scale Designed for weighing perfection, even under the heaviest loads or in extremely harsh conditions, the "Type S" pit-type truck scales are time-tested to handle the weighing needs of demanding operations. Over the years, Fairbanks' "Type S" design has become synonymous with reliability and long scale life, backed by an available 15 YEAR WARRANTY. With capacities in the range 25 to 120 tons, a CLC from 30K to 120K, and the availability of standard and custom lengths, you'll find a "Type  S" that's right for you.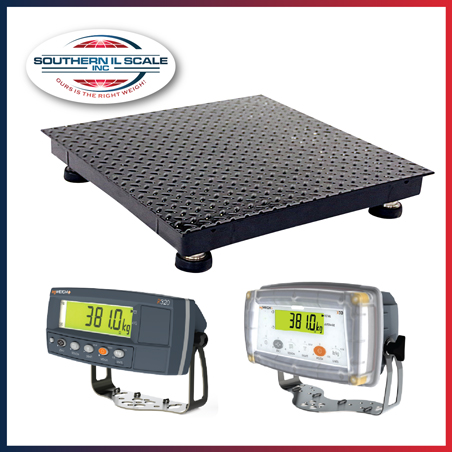 NTEP Certified Floor Scales to suit your requirements
Southern IL Scale manufactures and installs NTEP Certified rugged floor scales. Fabricated in Noble, Illinois, these are available in a number of sizes and are suitable for use across industries. They are compatible with super tough X320 which is IP69K/IP68 and designed for the harshest conditions or the R320 for less harsh conditions.

Floor Scale Base
Mild steel construction with levelling feet and junction box
Rugged build suitable for tough industrial environments
Capacities ranging from 5,000lbs to 20,000lbs
Dimensions ranging from 48"x48"to 120"x120" (Special sizes available on request)
Four load cells in each load receiving element
NTEP certified for general purpose weighing applications paired with an R320 or X320 indicator
agWEIGHr-R320
0.8in LCD display with LED backlight
Tough, compact dust and waterproof ABS housing
Stainless steel bracket for flexible mounting
agWEIGHr-X320
Dust, rain, hail, flood, urea, impact resistant and high-pressure hose down proof composite alloy housing
Simple operation and user friendly for first time users
Universal stand suitable for mounting on a desk, wall, post, pole, stump or even on machinery
Capacitive keys, no worn out or sticking keys, no buttons to fail
---

Request For Additional Information: