SOURCE: Luck Companies | January 30, 2023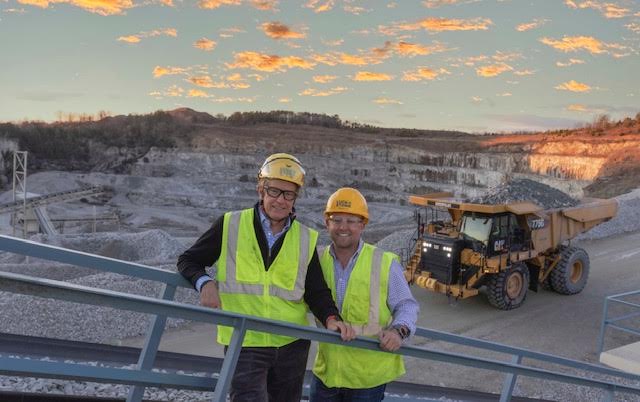 Richmond, Va. – In 1923, Charles Luck, Jr. opened a crushed stone operation, Sunnyside Granite Company, in Richmond, Va. One hundred years later, Luck Companies is the nation's largest and fastest-growing family-owned and operated producer of crushed stone aggregates and environmental performance products.
To commemorate the historic centennial all year long in 2023, the company has developed a series of interactive digital experiences to share the celebration with associates, retirees, customers and communities throughout the organization's Virginia to Georgia footprint. A special website, www.LuckCompanies100.com, invites everyone to explore highlights of the company's 100-year history and leadership, and to enjoy heartfelt stories from customers and community partners who have held longstanding relationships with Luck Companies.
"As we mark our 100 th year in business, our success has been fueled by people who embody tremendous pride, deep caring for each other, world class innovation and a commitment to our values and beliefs," said Charlie Luck, CEO of Luck Companies and grandson of the founder.
"Our business is aggregates, but people are our purpose. We have never wavered from our commitment to powering possibilities for associates, customers and communities."
Luck Companies takes pride in the people-first perspective that has been embraced by three
generations of leaders:
– Charles Luck, Jr. was known for saying, "If you take care of your people, they will take care of you."
– Charles Luck III, who led the company from 1965-1999, expressed that same belief through the company's slogan and promise to people: "We care."
– Charlie Luck IV broadened the scope of the company's mission by stating, "We will ignite human potential through Values-Based Leadership and positively impact the lives of people around the world."
Over the years, Luck Companies has established a sizable footprint that currently extends throughout the Southeastern U.S. with operations in Virginia, North Carolina, South Carolina and Georgia. A robust team of approximately 950 associates prioritizes strategic growth, innovation and safety as pillars to support the firm's continued success.
Looking ahead to the next 100 years, Luck Companies plans to develop forward-thinking, customer-inspired initiatives to expand access to data and technology that will increase agility and elevate performance of the business systemwide, while staying true to the company's core
values of Integrity, Commitment, Leadership and Creativity.
"We deeply believe that our focus on igniting human potential will continue to generate exceptional results. When we focus on that, we unlock all types of innovations and solutions that ultimately end up positively impacting our associates, our customers and the communities in which we operate," said Richard Luck, Charlie Luck's son who serves as Vice President of Luck Stone's Central South Region and represents the fourth generation of family leadership. "As we continue to grow, we will honor our 100-year legacy by working alongside our customers and communities, as we have done since 1923, to build a strong future woven with possibilities for
generations to come."
About Luck Companies
For 100 years, Luck Companies has been about people. Three generations of family leaders have built a business on the idea that every one of us has the potential to be a leader, that if we live and lead in alignment with our core values of Integrity, Commitment, Leadership and Creativity, we can all make a positive impact on the lives of other people.
Luck Companies' three business units make the products that serve as the foundation for the bridges, roads and buildings that keep our economy moving and protect our environment. We have become the nation's largest and fastest-growing family-held producer of crushed aggregates and environmental performance products by propelling a culture where people can thrive. In honor of our nearly 100-year history, we will continue to grow, powering possibilities for associates and communities, ensuring an exceptional experience for our customers, and broadening the impact of our mission for generations to come.
With 30 locations and approximately 950 associates, Luck Companies is headquartered in Richmond, Virginia, where it was founded by Charles Luck Jr. in 1923. Charlie Luck leads the company today. To learn more, visit luckcompanies.com.
To comment on this story or for additional details click on related button above.