SOURCE: GRT/CDE | September 27, 2022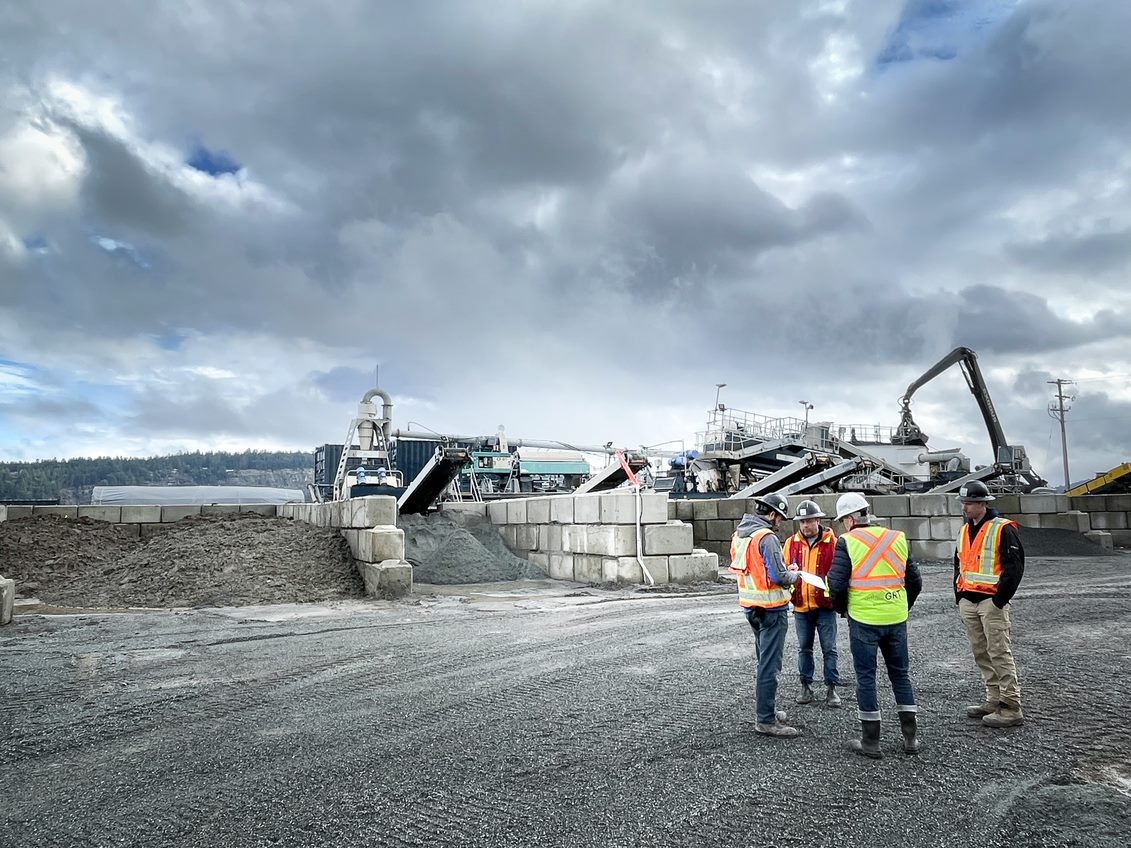 Located in Nanaimo, near the southern end of Vancouver Island, GRT's Resource Regeneration Facility partnership with industry experts CDE has led to the responsible recovery and recycling of a range of clean and contaminated soils in southern British Columbia.
As urban development sites become increasingly scarce in British Columbia, available land often requires soil removal to remediate trace contamination, or because excavated material isn't structurally suitable to be reused as fill. 
GRT's founders recognized an opportunity for resource recovery in the region and, in CDE, found the solution provider that could assist them in realizing the environmental and fiscal goals set for the company.
GRT chose to invest in CDE technology that would establish its footprint in the Pacific Northwest, increase its capacity to receive more soil and support the company's research and development efforts to offer coal removal from soil – a main contaminant in theNanaimo region. 
GRT receives raw feed material from various locations throughout the region, including excavations for residential developments, brownfield/remediation sites, tunnelling projects, hydrovac trucks, and river or ocean dredge projects.
GRT's facility uses an extensive CDE wash plant that includes a CDE feed hopper, and the pioneering AggMax modular logwasher. The AggMax combines pre-screening, scrubbing and organics removal within the Rotomax logwasher, sizing, stockpiling, fines recovery and filtrates removal on a compact chassis. The Rotomax is a high-efficiency, heavy duty unit that incorporates several design features to ensure maximum performance and minimum wear with even the most challenging feed materials.
An EvoWash sand washing and classification unit with modular hydro cyclone technology gives GRT unparalleled control of silt cut points – producing high-quality in-spec materials. Combined with CDE's patented InfinityTM dewatering screen technology, it results in an increased power to weight ratio for lower running costs through reduced power consumption.
The AquaCycleTM isa high-rate thickener and primary stage water management system, that recycles up to 90% of the process water for re-use in the system, GRT combines the AquaCycleTM with its own wastewater treatment technologies to remove environmental contaminants from the water. This minimizes discharges to the environment, which is in line with GRT's ethos of environmental responsibility.
The plant produces 40tph of reusable and resaleable products that are supplied to the local construction industry, including sand, pea gravel, oversized rock and 4" minus rock. The leftover contaminated material is currently incorporated into GRT's clay output, then transferred to a provincially permitted facility to be beneficially reused as landfill cover. GRT are also exploring ways to extract more benefit from this product.
Now a successful construction aggregates supplier, GRT was established with a commitment to environmental responsibility and the circular economy, while ensuring mutually beneficial relationships with local First Nations.
Peter Reid, CEO of GRT said, "CDE has been an excellent partner to GRT. Starting with dredge dewatering, CDE has provided a framework for GRT to add on various technologies in turning excess contaminated soils to aggregate for future use in construction projects.
"Between June 2021 and June 2022, GRT's waste-to-resource facility diverted 70,000 tonnes from local landfills. We are proud that our partnership with CDE has produced such a positive impact on the environment."
Adrian Convery, Business Development Manager for the Americas at CDE said, "GRT's business model transforms the existing value chain in Vancouver Island. It has been a great experience to have worked with a team that shares our values and objectives from the inception of this partnership, and CDE look forward to developing this partnership in the near future." 
About CDE  
• CDE is a leading provider of wet processing equipment for recycling operations quarries, and mines on the global market.   
• The CDE equipment range has applications across a wide range of materials and is delivering significant efficiencies in the construction, demolition and excavation (CD&E), and waste recycling, mining, industrial sands and environmental sectors.  
• Working across five regions globally, CDE has been co-creating with customers for 30 years to deliver collaborative, imaginative and unique processing systems.   
• The CDE global headquarters is located in Northern Ireland and is the regional HQ for UK & Ireland. CDE's Centre of Excellence in Texas ensures the company effectively serves the North American market. It also has regional offices in Europe, MEA, and Australasia.    
• CDE is an established and award-winning company. As such it requalified for Platinum status in the world recognised Deloitte Best Managed Companies Awards 2021. This was the 13th year in succession that CDE won a Best Managed Companies award. 
To comment on this story or for additional details click on related button above.