Martin Engineering was founded in 1944 by Edwin F. Peterson, a foundry pattern maker in a small Illinois town. The initial idea for the company's inception came as he watched co-workers struggle to overcome sand blockages on the foundry's mold-making machines by pounding on the hoppers with hammers. He was troubled by the safety risks, equipment damage and loss of productivity that resulted. Those concerns prompted him to design the Vibrolator® Industrial Vibrator, which uses the rotation of a single steel ball in a hardened steel raceway, propelled by compressed air. Patented in 1949, it was the first of the innovative products introduced by Martin Engineering to solve problems in bulk materials handling, and remains today as one of the world's most accepted vibrators to facilitate the movement of bulk solids. From its beginning, the firm has been a family-owned, privately-held company.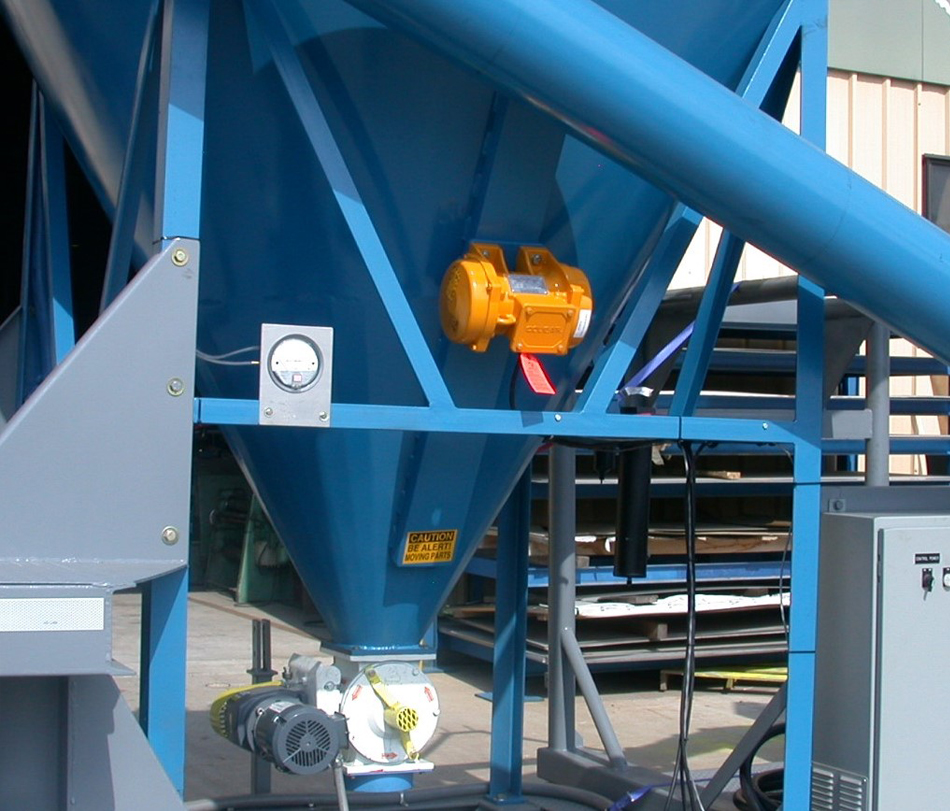 Industrial vibrators are key to bulk material flow in many industries and applications.
After the development of a number of successful industrial vibrator designs during the company's first two decades, management made a decision in the 1960s to begin developing high-performance products for conveyor applications. That business has grown into a rich product line of belt cleaners, dust containment products, transfer point solutions, safety components, flow aids and many other innovations to improve bulk material handling.
Another milestone was the decision to grow the company into a truly global enterprise, with a goal of establishing business units that could deliver manufacturing, sales and service to virtually any location in the world. This has led to an expanding network of Martin Engineering facilities, currently numbering business units in 16 different countries.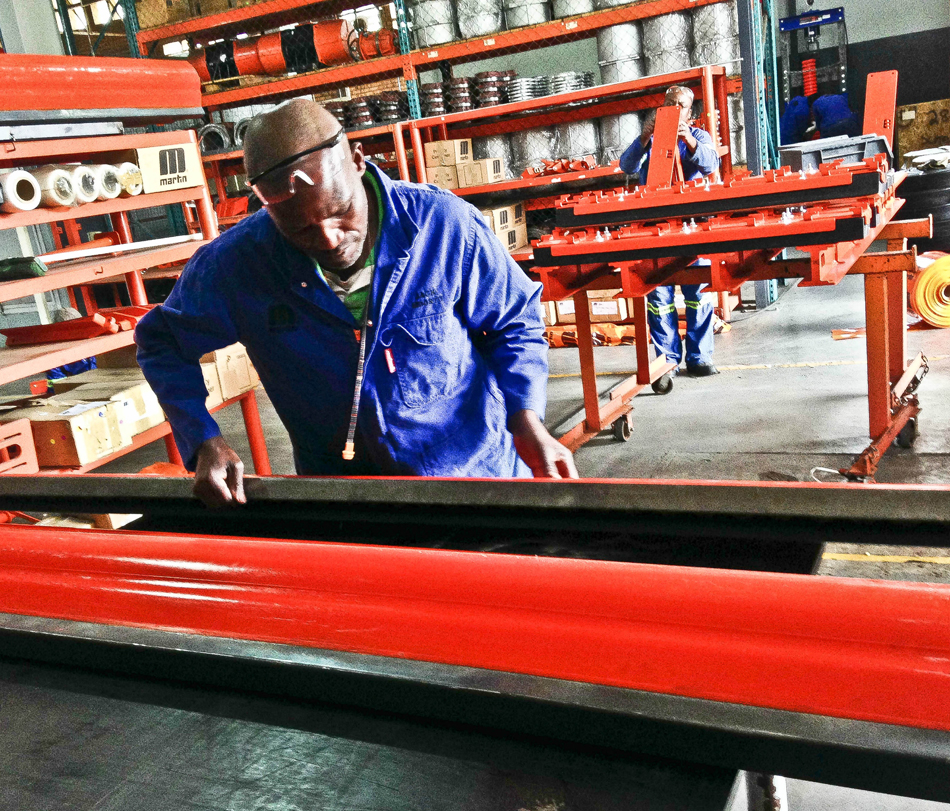 A worker inspects a freshly molded conveyor belt cleaner blade at the Martin Engineering facility in South Africa.
The firm's subsequent commitment to invest heavily in conveyor education and training was also a defining moment, based on a growing sense of responsibility for raising levels of performance and safety across all bulk handling industries. That commitment has turned into one of the cornerstones of the company's mission.
The evolution to a global company was a gradual process, involving a great deal of international travel and close involvement with local customers, distributors, technical experts and others to become intimately familiar with the markets and challenges. Martin has traditionally hired and trained employees who are native to each region, taking advantage of their experience and knowledge of local languages, customs, regulations and opportunities. The firm continues to develop its global manufacturing and technical service network.
Several elements helped establish the firm as a globally respected brand. One was the growing recognition of the expertise employees brought to these regions. Another was the extensive programs for education and training that helped customers improve their levels of safety and productivity. Perhaps the most critical factor was the company's proven reputation for supplying heavy-duty products that withstand the rigors of the mining environment, and the fact that they carry an absolutely-no-excuses guarantee.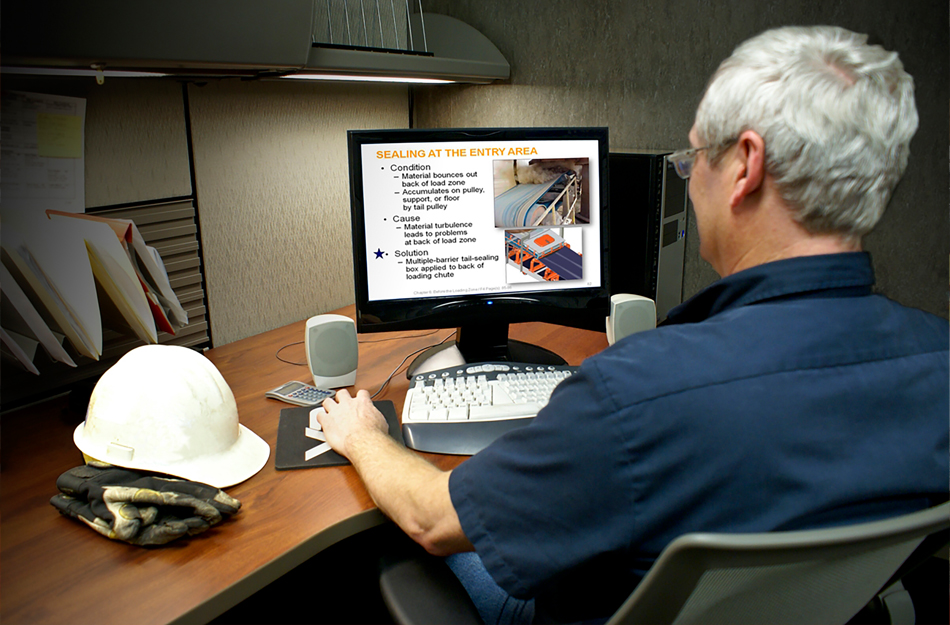 Martin offers an extensive array of online and in-person training options.
Aggregates and mining have traditionally been among Martin Engineering's primary target markets. Although the industries are changing in North America, these segments remain part of the company's core business, and it continues to develop new products and designs to improve productivity and safety. The industries are also key to the global business plan, as markets in China, India, South Africa and parts of Latin America continue to grow and mature. While most extraction operations in North America have already incorporated a number of engineered products into their bulk handling systems, many operations in the developing regions have yet to integrate these components, providing significant opportunity to help improve the performance and safety of those systems.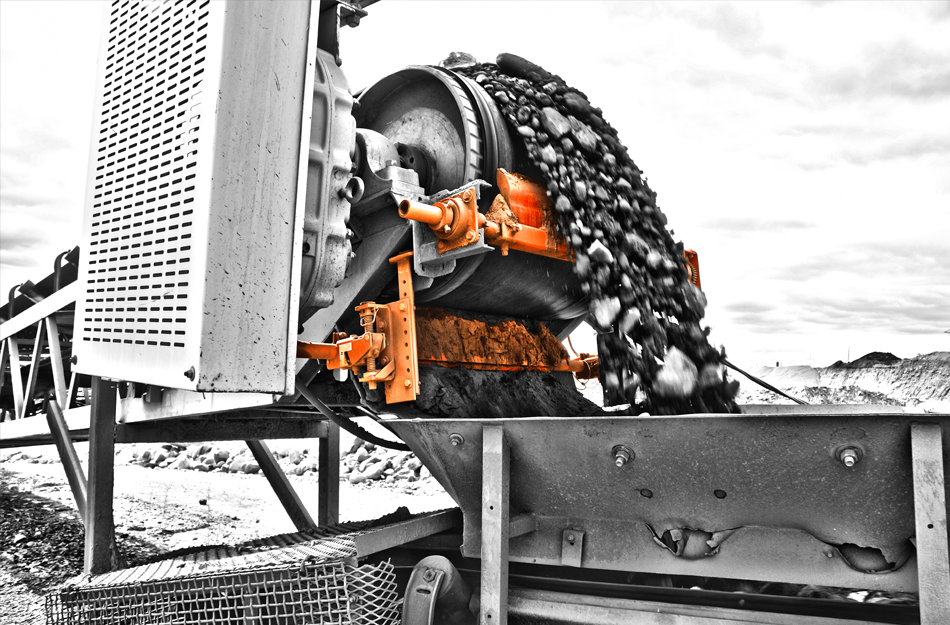 Primary and secondary conveyor belt cleaners at an aggregate processing plant.
Over time, the firm has concentrated on a number of other industries, which have grown to become significant business segments, including cement manufacturing, coal processing, biomass handling, ore mining, pulp/paper manufacturing and others. The company remains focused on helping bulk material handlers achieve cleaner, safer and more productive operations across a wide range of industries and applications.
Safety has always been one of the driving forces behind Martin Engineering's business, as exemplified in its products, services and training. It was one of the motivations for the company's very first commercial products, and remains a key element of every design. Some products are developed specifically to meet safety objectives, such as conveyor guards, safety shields, roller guards and inspection doors. But in all cases, whenever a new product design is being considered, safety and ease of service are among the foremost considerations. Some companies talk about "designing-in" safety, but Martin truly integrates and embraces the concept.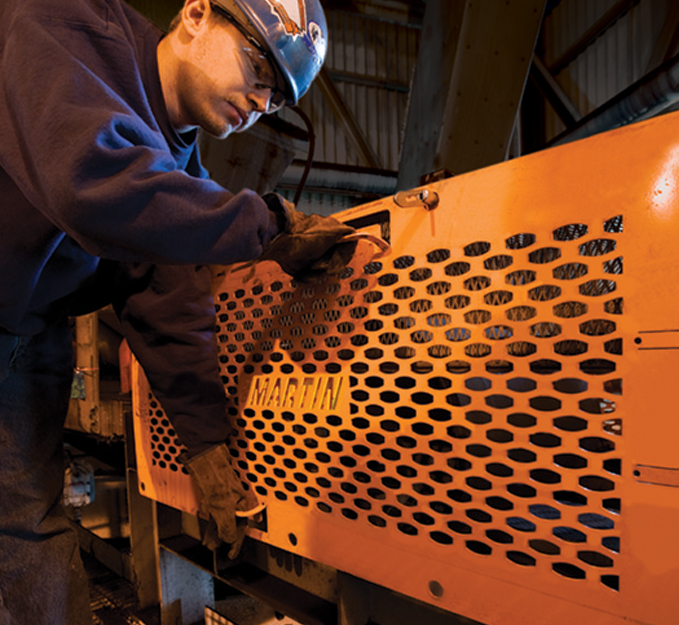 Whenever a new product design is considered, safety and ease of service are among the primary considerations.
As conveyor systems continue to get larger, longer and faster, the importance of safety training escalates significantly in order to avoid the catastrophic consequences of unwise actions around a conveyor. The initial volume of the company's Foundations series of reference books was published in 1991 as a practical resource for helping bulk materials handlers operate more safely and efficiently. Now in its fourth edition, the book has become a vital component of the international training programs developed by Martin Engineering, which include on-site workshops, online courses and certification. As the trend toward downsized operations in many industries continues, customers are now finding that the training has become an essential component of their own continuing education programs, and they are outsourcing this critical function to the expert teams at Martin Engineering.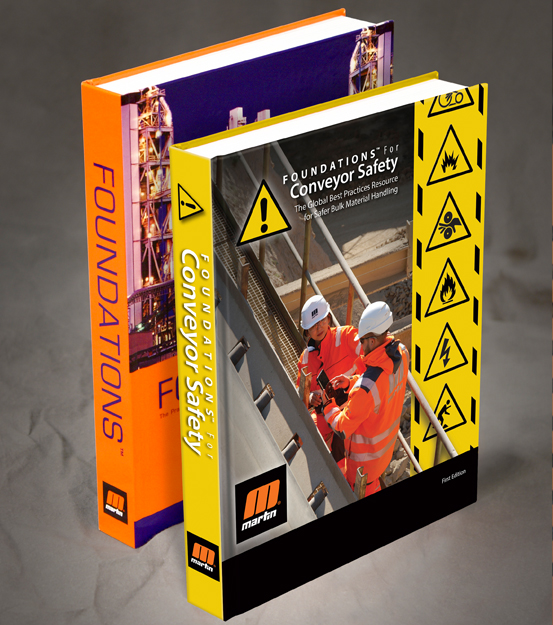 The Foundations series of reference books has become a key resource for bulk material handlers worldwide.
In the future, Martin Engineering management envisions a rise in the trend of global information sharing, with its Center for Innovation as an institution growing beyond the walls of the actual facility, collecting and disseminating information, creating new designs and developing new ideas. The company will also continue encouraging students in the study of engineering, collaborating with universities and offering internships that help build and strengthen its global team.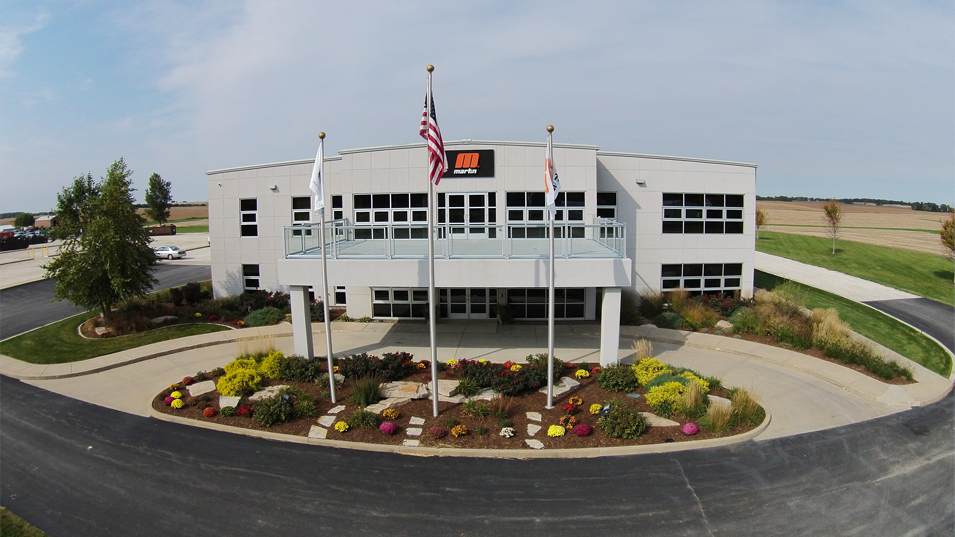 Martin Engineering Center for Innovation (CFI) at the company's global headquarters in Illinois.
---

Request For Additional Information: