PHOENIX/KISA Bucket Wheel is Designed for the capture, de-sliming and dewatering of granular solids including construction aggregate (sand & gravel), specialty sands, granular tailings from mining, dredger slurry and more. These machines are uniquely designed for high solids recoveries with exceptionally low power requirements. The dewatered solids are readily conveyable and stackable, having residual moisture contents that are comparable with the product from dewatering screens.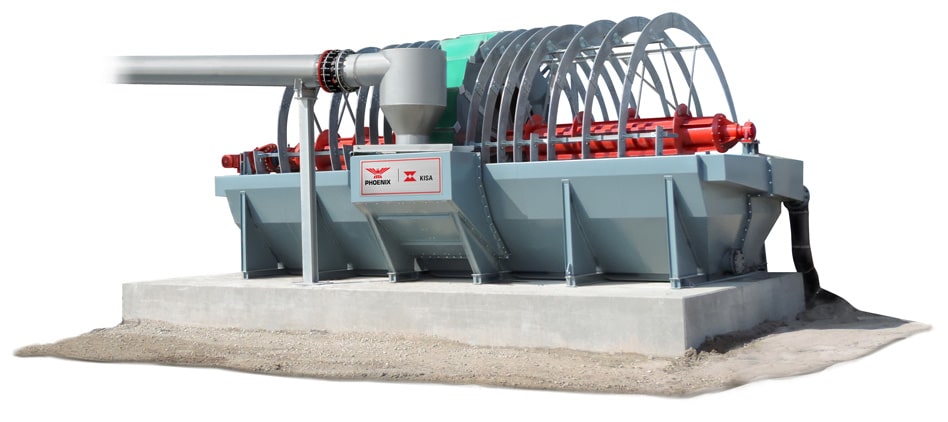 PHOENIX/KISA Bucket Wheels capture, de-slime and dewater aggregates and granular tailings from mining and dredging.
The wheel is equipped with multiple buckets. Many designs are available with the wheel diameter and bucket width determining the solids handling capacity and the surface area of the slurry bath defining the hydraulic capacity.
Sand, gravel and other granular material is fed to the feed box in the front of the bath. Material is picked up by the buckets as it spins slowly. The slow operating speed and absence of vibration and robust materials ensures lower maintenance costs versus dewatering screws, pumps/hydrocyclones and dewatering screens. Siphon assisted pipes returns the water and material that pass though the sieve mats to the bath. Dewatered solids move through the discharge chute and are conveyable and stackable. Waste fines flow upward in the bath to the overflow launder.
| | |
| --- | --- |
| Multiple Bucket Wheels installed in state-of-the-art aggregate processing plant. | The Bucket Wheel works to separate fine material from the slurry water in aggregate wash plants. |
Advantages to consider of the PHOENIX/KISA Bucket Wheel:
Can be applied on a wide range of materials including gravel and fine, coarse, or highly abrasive "sharp" sand.
Reduces energy and maintenance costs and capital investment compared to large pump/ hydrocyclone/dewatering screen modules.
Separates silts and other deleterious materials from dredged material while dewatering and transferring product directly to belt conveyor.
Unique dewatering design provides high solids capacity of +1700 STPH, sand recovery up to 99.5%, and handles multiple product streams simultaneously
Load-sensitive automation adjusts to varying feed rates
50 HP drive provides low power consumption for 1000 STPH
Handles large surges in feed making it ideal for dredging
Large sumps provide high hydraulic capacity
Optional, add-on auxiliary feed box liberates surface clay
Typical applications of PHOENIX/KISA Bucket Wheels include, but are not limited to:
Sand & Gravel Capture & Dewatering
Capture & Dewatering of suction dredger slurry
Screens or Dredging Sand Recovery
Waste Scavenger Recovery
Fine Sand Recovery from effluent slurry
Washing
Classification
---

Request For Additional Information: